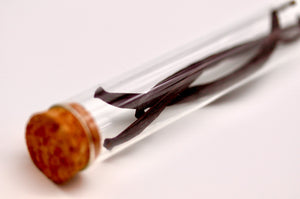 Hawaiian Vanilla Bean / 'Okika Pī
Sale price Price $15.00 Regular price
Vanilla is one of the most coveted spices on earth and carries the second highest price of any of whole botanical (saffron is #1!)
Native to Mexico, vanilla is now grown throughout the American Continent, Africa, Indonesia, and China. Its high global market price (mostly due to the fact that it takes up to 5 years for each plant to produce beans) make it important to source fair trade. We source vanilla throughout the Hawaiian islands; this crop is from Kauai Vanillery in the Wailua Homesteads.
www.vanillery.com
Far from boring, real vanilla adds warmth and richness to all sweets and can play well in savory dishes too.
3 premium vanilla pods in a glass vial.
Recommended use:
soak vanilla bean pods in vodka for 6+ months to make your own extract
cut off a tiny bit (1/8" or so) and adding it to coffee grounds while brewing
blend 1/8" on high speed with all sorts of hot drinks- delicious with coffee, chai, hot cocoa, matcha, mushroom milk, or golden milk.
add to homemade nut mylks- a recipe for our house blend Vanilla Mac Nut mylk comes with purchase 
—
'Okika: Orchid
Pī: Bean