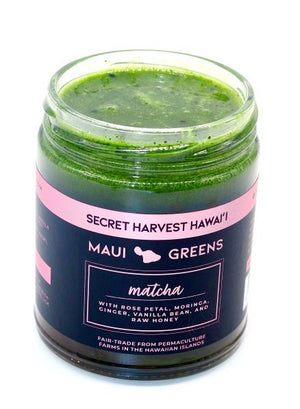 Maui Greens / ŌMAʻOMAʻO
Sale price Price $25.00 Regular price
The best cup of matcha you've ever had.  No, really.
INGREDIENTS: LAKA Matcha, Moringa, Ginger, Rose Petal, Vanilla Bean, Coconut Milk Powder, Raw Honey
We pair ceremonial-grade samidori matcha from Wazuka, Japan with rare botanicals sourced throughout the Hawaiian Islands and folded into sweet golden honey.
Whisk this paste into hot liquid (then pour over ice, if you like) or blend bullet-proof style if you like froth and foam.
--
Matcha is a type of powdered green tea, grown in Japan. In addition to supplying a steady source of energy (no jitters, no crash) matcha has been clinically shown to raise metabolic levels and improve memory.
Moringa leaves are highly valued throughout virtually all tropical regions.  Benefits are too many to list here, but include blood sugar balance, reduction in inflammatory markers, and a potent antibacterial, antifungal, antiviral agent.  Ours is grown in the mountains of Hana on the island of Maui.
Ginger is a spicy, warming rhizome prized throughout the world for its digestive benefits.  Ginger can settle an upset stomach, and relieve nausea.  It is a potent remedy for pain and inflammation of all types.  Ours is grown in Moloa'a, Kauai.
Rose carries the highest electromagnetic frequency of any plant we know of.  Roses are known to be effective at healing emotional wounds, and to aid in heart-opening. These delicate petals are grown at the base of Makaleha Falls, Kauai.
Vanilla Bean is one of the most expensive (second only to saffron) botanicals on Earth.  Vanilla is a member of the orchid family, and must be hand pollinated daily.  In addition to its warm and comforting flavor, vanilla acts as a nervous system regulator. Ours is harvested on the North Shore of Oahu.
--
ŌMAʻOMAʻO: green