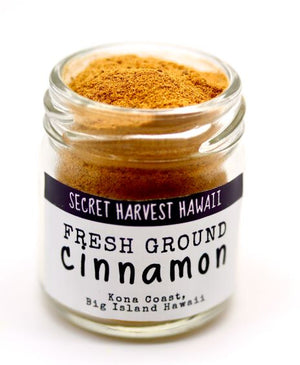 Cinnamon / KUMULA'AU
Sale price Price $6.00 Regular price
Cinnamon was one of the first plants to be internationally traded and recognized as valuable. Explorers found the first large natural supply in Ceylon, which we now call Sri Lanka.  Most commercially grown cinnamon now comes from Indonesia, China, or Vietnam and is considered to be an inferior, "cassia" variety.
Our cinnamon is sourced from the Big Island, from Tane & Maureen of Adaptations Kona farm, and is truly rare and special.
Cinnamon is the inner bark of a tree, which is then usually ground for use. Cinnamon is a major flavor player in our Kauai Golden Milk blend.
We like to use this cinnamon in coffee, tea, baked goods, overnight oats, and it adds a complex flavor to a chili, marinade, or coconut curry.
- enjoy - 
KUMULA'AU : Medicine Tree