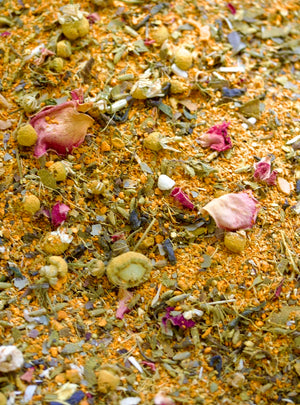 OLA Medicine Tea / LA'AU NUI
Sale price Price $10.00 Regular price
INGREDIENTS: 
turmeric, ginger, yerba mate, jasmine green tea, ginseng, gingko biloba, rosemary, oregano, peppermint, chamomile, rose, lavender, cinnamon, vanilla, clove, cardamom, black & chili pepper
--
A blend to stimulate digestion, strengthen and protect immunity and gut health, and provide calm, stable energy.  
The elements of this blend simultaneously invigorate and soothe.  Turmeric, ginger, cinnamon, clove, and chili pepper enliven and engage the body's natural pain relief and wound healing responses, while mint, lavender, and vanilla bean can help regulate the central nervous system and elevate mood.  Gingko biloba is an effective memory aid and is protective against the effects of radiation and EMF. Ginseng has been used for millennia to improve energy, stamina, and immune function.
Oregano and rosemary are powerfully antiviral and antibacterial. Yerba Mate and green tea are high in antioxidants, which slow down cell turnover, in addition to providing about 20 mg caffeine per serving.   
Roses carry the highest electrical frequency of any plant known to us, and offer a host of spiritual and emotional benefits.
I started making this at home in order to reduce personal coffee consumption; now I share it with you.  It's recommended to brew in a French Press, but you can also use a drip coffee maker, a tea ball, or even a reusable K-Cup.
After 2 years of daily use, this is my favorite and most often used product on the website. Great for travel and hotels :)
Try it with honey and lemon.
--
LA'AU: plants, vegetation
NUI: many