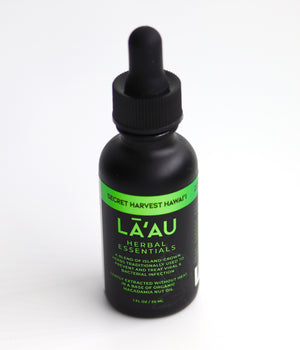 Herbal Essentials / LA'AU LAPA'AU
Sale price Price $19.00 Regular price
This blend can be used for antiviral, antibacterial, antiemetic, & antifungal purposes. Use at the first signs of immune stress.
We grow these herbs in-house on Kaua'i.  Each plant has a specific extraction or distillation process, which is blended into golden macadamia nut oil from the Big Island. The healthy fats help with absorption and bioavailability.
For topical use, massage on the bottoms of the feet, back of the neck, and along the spine. It can also be directly applied to blemishes, blisters, abrasion, rash, or infection. 
To use internally, 1-2 droppers full directly into the mouth, or emulsify in honey, then add hot liquid.
INGREDIENTS:
lemon balm, oregano, rosemary, eucalyptus, cinnamon, clove, macadamia nut oil
--
1 bottle contains approx 35 servings. It is a fresh product, and does have a shelf life.  We recommend consuming within 6 months.  Remember, herbal medicine is effective when you use it!
Add to tea, broth, tonics, smoothies, etc. TSA friendly!

--
LA'AU LAPA'AU: the traditional medical practice adopted by native Hawaiians. The Hawaiian words Lāʻau and lapaʻau mean vegetation and treat, heal, or cure respectively. This practice involves using native plants, herbs and spirituality to treat ailments and injuries.