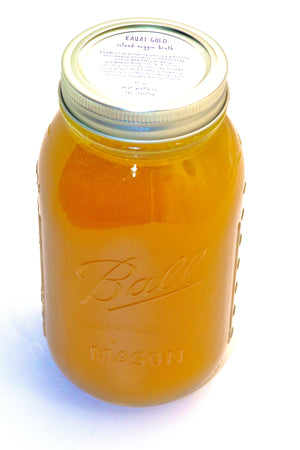 Island Veggie Broth / MAMALO LIMU WELA
Sale price Price $15.00 Regular price
This item is fresh and perishable, and is only available on the island of Kauai.  All local orders receive free delivery. To avoid shipping charges & local tax, please send orders or questions to aloha@secretharvesthawaii.com 

--
This broth is delicious for sipping on a cool day and can be used as the base for ramen or any other broth based soup.  Add to grains or potatoes while cooking to add flavor.
Freezes well for up to 6 months.
INGREDIENTS:
turmeric*, ginger*, garlic, onion*, carrot*, celery, shiitake & reishi mushroom, nori, wakame, & kombu seaweed blend, kale*, black & chili pepper,* chard*, rosemary*, oregano*, thyme*, lemongrass*, ashwagandha, parsley*, grass-fed butter*, sesame oil, tamari, citrus
*Kauai homestead-grown.
All nonlocal ingredients are certified organic or wild harvested and sourced with care.
--
Mamalo - mushroom
Limu - seaweed
Wela - hot