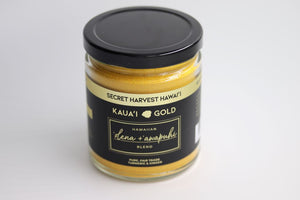 Turmeric & Ginger Blend / OLENA + AWAPUHI
Sale price Price $40.00 Regular price
Kaua'i Gold 'Olena & Awapuhi Blend //  KULA MANA
150 grams per jar / 40+ servings
This is our most medicinal blend, it is 100% pure, fair-trade turmeric and ginger, dried for 24 hours at 110 degrees and ground in small batches.
These roots grow on the North Shore of Kaua'i, for nearly a year before they're ready to be harvested.  We believe they absorb the "mana" of the islands and, in turn, have the ability to imbue that magic to you.
For best results, whisk this into a paste with honey, then add a hot liquid. (You can chill or pour over ice if you like.)
This item pairs well with the La'au Herbal Essentials Blend and the Kula Meli.

These traditional medicinals are used for all types of pain, swelling, and inflamation, to treat infection, autoimmune dysfunction, to aid in cognitive function, recovery after strenuous exercise, relief from menstrual difficulty, and/or postpartum care, to improve complete digestion and resolve chronic constipation, and as a part of the treatment in more serious dis-ease, too.
INGREDIENTS:
turmeric,* ginger*
* grown in Hawaii
comes with a recipe card
--
MANA: spiritual or supernatural energy of power and strength