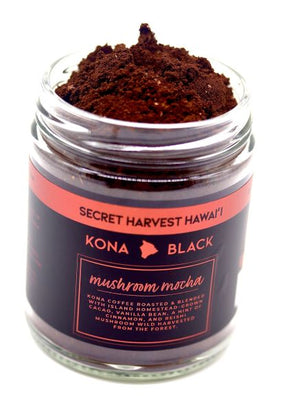 Kona Black / KOPE ELE'ELE
Sale price Price $18.00 Regular price
A decadent, heart-expanding, ceremonial indulgence nearly 2 years in the making.
Hawaiian Kona & Ka'u grown coffee (some of the most prized beans in the world) blended with cacao harvested on the Kona Coast, vanilla bean grown on the North Shore of Oahu, forest-grown Japanese Reishi mushroom, and a hint of cinnamon from the mountains of the Big Island.
These ingredients are sourced from small family homestead farms. This blend is created for special times and moments when there is time to truly savor.
This blend is energizing and euphoric; the addition of other superfoods to coffee provide a buffering effect to the caffeine, so there is no crash.
Cacao is rich in many trace minerals such as copper, magnesium, zinc, and sulfur. Cacao contains PEA, or phenethylamine, also known as the "love chemical," which stimulates the release of pleasurable hormones called endorphins.
Reishi mushroom is known as the "Queen of Mushrooms," and is known to increase cognitive function and memory.  It is an adaptogen, and helps our bodies to respond appropriately to daily stressors, keeping us in physical and emotional equilibrium.
Cinnamon provides antibacterial and antifungal properties and is clinically shown to assist in proper blood sugar balance.
Try this blend in a French Press.  
--
KOPE - coffee
ELE'ELE - black